The days of struggling to quote a product without a drawing are over.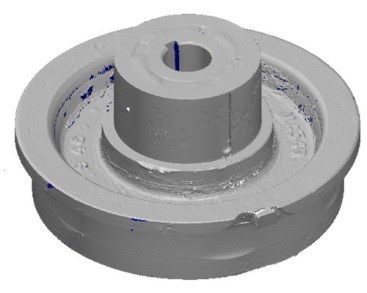 At McKees Rocks Forgings we have the capabilities to accurately reverse engineer your product and produce a replacement part. Using a Faro Laser Inspection Arm, our engineers can scan you're supplied part, in any condition, and then design a comparable part that will be as good as new.
The cast steel wheel pictured here was sent in by a customer after the flange was damaged and the wheel was removed from service. Our team analyzed this wheel and improved the material grade and processing and replicated the product geometry to produce new parts for our customer. Utilizing the Faro Arm, our engineers can capture any detail your product has. As pictured, internal and external keyways, stamped markings, precise dimensions, and even cast markings are plainly visible through our scanning process. These details will be reported back to you through our estimation team and if ordered an approval drawing of your part will be finalized per our order process.
To begin a reverse engineering project, please contact a sales representative today.